NULL
The city of Ghent is an ideal model for many national and international cities because of its sustainable food strategy. The city likes to present Roof Food to the rest of Belgium and the outside world as an inspiring, innovative initiative.
Lieta Goethijn works for the Environmental and Climate Services of Ghent and is jointly responsible for 'Gent en Garde' (Ghent and Whisk). With this food strategy, the city wants to make the food system in Ghent more sustainable, not only from its production, but also through its processing, distribution, consumption and waste processing.
Lieta: "Urban agriculture and local agriculture each play an important role in this. As a city, we stimulate all kinds of short chain initiatives. For example, we have supported citizens who wanted to set up an urban vegetable garden together, as well as their neighbours who wanted to grow fruit trees. For the last two years, our Food Council has had its own budget, intended to give a boost to innovative and sustainable food projects. 
We have already learnt about a lot of great projects, such as an entrepreneur bringing organic vegetables to the city on a solar-powered bio-boat or a farmer growing micro vegetables in an old greenhouse. We capture what is happening in our city in terms of sustainable food production, and we then organise networking events to bring our entrepreneurs together."
Sabien: "These events really do add value! There is a lot going on in Ghent in the field of sustainable food. However, I've noticed that I don't work so much with other short chain players myself. In our business, everyone works on their own little island. Everyone is busy with their projects and we rarely have the opportunity to meet each other, particularly during the Covid-19 era. It's great that the city is taking a leading role in bringing partners together".
Sabien: "As an organisation, it is also helpful to have a clear point of contact within the city. It's very frustrating when you don't know which service to choose and are then sent from pillar to post. I'm finding this demotivating. Lieta keeps us informed about potentially interesting partners, subsidies and opportunities. It's great that the city of Ghent knows Roof Food so well, knows what we stand for and the direction in which we want to go." 
Lieta: "The opposite applies as well. For us, it is important to know what is happening in Ghent and to appreciate the initiatives such as Roof Food. Internationally, Ghent gets a lot of attention when it comes to its food strategy. As a city, it's good to be able to put forward a lot of great initiatives and Roof Food fits the bill perfectly.
We regularly send foreign visitors and other people who are curious about urban agriculture to projects such as Roof Food, and all the positive reactions we have received show that this has been a huge success! This way, we can benefit from each other: the city of Ghent helps innovative entrepreneurs such as Roof Food to raise their profile, and vice versa."
Sabien: "The city of Ghent has indeed given Roof Food a great deal of publicity and visibility, particularly through its social media channels and the city's magazine. However, the link with the city goes back even further, as Ghent puts a lot of effort into green roofs and also provides substantial subsidies for their construction. De Punt, the business centre whose roof on which we're based, has also received this subsidy.
Lieta: "Indeed, green roofs are a key part of life in Ghent. If they want to respond to the effects of climate change, then cities must focus on green roofs. These green roofs cool down in the city and buffer rainwater, and part of the precipitation is retained, serving as food for the plants, another part evaporates and provides natural cooling. This is important, especially considering that the urban heat island effect makes it hotter in the city than in the countryside.
Many roofs are not used efficiently in Ghent, where space is already so scarce. If we can use those black asphalt surfaces for urban agriculture or for green roofs, we will have taken a big step towards being a city of the future. Ghent's authorities are happy to provide subsidies for the green roofs. The amount depends on quality and biodiversity. People can achieve several objectives with their roofs. It's nice to see that they have a cooling effect, are good for biodiversity and water management, and with a bit of luck, you can also spend more time on them. Talk about a win-win situation!"
This story was created with the support of Circular Flanders, the Flemish policy-making organisation for a circular economy.
string(3) "yes" NULL
Stakeholders of Roof Food: De Punt Business centre
When Sabien was looking for a suitable location for her Roof Food vegetable garden in 2014, she heard that the De Punt Business centre had plans to construct a new building. As soon as Sabien had the first conversation with the management at the time, she knew that she was at the right place. The feeling was definitely mutual and the current director, Piet Lietaer, has not regretted that decision for a second.
De Punt Business centre, which is on the outskirts of Ghent, is so much more than just a collection of offices, flexplaces and meeting rooms. It is a centre for entrepreneurs with entrepreneurial ideas, with a special focus on supporting companies that do social and sustainable business. De Punt does this by offering financial support and training in social entrepreneurship. These were two opportunities that were also seized by Sabien.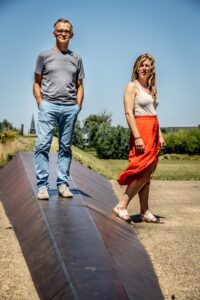 Piet Lietaer: "From the beginning, there was a clear match in what Sabien wanted to achieve and what we want to convey as a company. We want to be a growth platform for entrepreneurs who have impactful ideas and we place an emphasis on social and sustainable entrepreneurship. When Sabien presented her idea for a roof vegetable garden and talked about the possibility of organising guided tours and involving the neighbourhood in the business centre, we thought that Roof Food could bring added value to De Punt. We saw that Sabien has strong communication skills and were confident that she could provide the necessary publicity, both for Roof Food and, indirectly, for us. At Sabien's request, we then adapted the plans for our new building project and turned it into an intensive roof."
Piet: "Now, four years later, our aspirations have turned out to be more than correct. In terms of appearance, Roof Food has become De Punt's business card. Many people have discovered De Punt thanks to the activities of Roof Food. A business park sounds very boring, as people don't have a clear understanding of what we really are. For us, the roof vegetable garden is a way of highlighting our green and social characteristics. External organisations have found their way to us when they never would have come here otherwise. Roof Food look after the catering at events
that take place here. Another positive is that events have been organised here because of Roof Food."
Sabien Windels: "De Punt is the coolest business park I know, and for me, it feels like this is my second home. Yesterday, for example, I was working downstairs on the patio. I chatted with passers-by for about an hour and a half. Even though I wasn't able to finish my work, three good ideas came out of it in the end. For example, I talked to someone from Group INTRO, a social employment organisation working towards an inclusive labour market. Sometimes their couriers have less work, so they're able to water our plants, for example, when Jonathan and I are not here. I really like that kind of interaction. There is a lot of cross-fertilisation between the different organisations here, which is not always that apparent in the world these days."
Sabien: "What I like about De Punt is that they apply long-term thinking. This can be felt in all areas. We regularly sit down with the De Punt management to discuss new ideas or projects. Anything and everything can be discussed. Our trusted bond makes it easier to set up new projects, even though ideas are sometimes discarded, of course. For example, after consultation, the conservatory on the roof did not turn out to be a profitable plan, so the idea was discarded."
Piet: "In all these years, there have actually only been a few conflicts. There have been some discussion points along the way, yet that is only normal. We have both social and traditional businesses here at De Punt." He smiles and adds, "The latter sometimes wonder what's going on there on that roof. In actual fact, I have only heard positive comments from these businesses as well."
Sabien: "One of the people with an office right next to the vegetable garden recently told us how calming it is to see Jonathan working in the garden. He would not leave here even if they paid him, which makes sense really, because if it wasn't for Roof Food, he would be staring at rubber roofing all day. In that respect, Roof Food is a win-win for everyone."  
—
This story was created with the support of Circular Flanders, the Flemish policy-making organisation for a circular economy.
string(3) "yes" NULL
If you take a closer look at the history of mankind, you get the impression that there are no other species that could deal with its environment in such a creative and profound way. For thousands of years, people have built temples, cities, roads and other impressive structures. Bit by bit, scientists have unravelled the secrets of the natural world and you cannot imagine what our modern society would be like without this knowledge.
Like no other creatures, we are able to see the difference between a situation as it is and a situation as it could be. This has given some people the illusion that we are actually separate from nature. It is patently obvious that this illusion can have disastrous consequences. Just think of environmental pollution, overpopulation and the undeniable climate change. Therefore, many people are calling for a return to a society which is more in touch with nature. This doesn't mean that we have to go back to living like our ancestors. On the contrary, if we dare to use Mother Nature as a source of inspiration and a mirror, then our future can be a very bright one.
Biomimetic design in architecture
Do you know the differences between a suspension bridge and an arch bridge? The architects and scientists who created them have calculated that these structures are able to withstand enormous forces like no other. If you look at the biology, you will see that the skeleton of an African elephant is built like a suspension bridge and that of an Indian elephant is like an arch bridge. Many of our inventions seem to be subconsciously based on structures that have proved to be successes in the natural world for millions of years.
Although architects can label these as coincidences, if they are wise, they will find many more examples of easily applicable solutions to concrete problems in biology. Termites have accidentally invented highly efficient forms of air conditioning for their underground metropolises, from which we can benefit. Anyone who wants to save on material costs, without compromising on sturdiness or flexibility, could study the bones of birds.
For more than 150 million years, birds have shown the capability of evolution. It is therefore no wonder that biomimetics or biomimicry, which imitates natural structures or processes, has become a fully-fledged and promising science.
Biomimetic product development
In space travel, it is crucial that satellites, spacecraft and space stations are perfectly attuned to each other. After all, if a spacecraft wants to make a coupling, it will do so at a very high speed. This explains why NASA has spent a lot of time studying the jaws of insects and the hinged functions of their various components.
The field of robotics is also unthinkable without natural examples. Just like insects, robots have a hard external structure. Just like insects, modern robots must be able to react quickly and perform their functions reliably and stably. Technicians have learned a lot from the movement apparatus of the cockroach and the leverage function of insect jaws, which are able to manipulate their own weight many times over.
Due to developments in material technology, much more is possible nowadays. This also makes biomimetic design much easier. For example, think of the possibilities of spider silk. This material is stronger than steel and extremely resilient. The rough skin of a shark is made in such a way that it hardly encounters any resistance from water. Ships will consume considerably less fuel if they are built from material that lacks virtually any resistance.
Biomimetics at the smallest level
Even at the smallest level, biology can open doors that would otherwise remain closed. You have undoubtedly heard of the enormous progress that has been made in the field of molecular genetics. To manipulate DNA, scientists need precision equipment. This equipment has existed at the molecular level for billions of years. Without restriction enzymes, which bacteria use to defuse viral infections, we would never have been able to cut and manipulate DNA fragments to size.
The revolutionary CRISPR-CAS9 system, which may make hereditary diseases a thing of the past, is also part of the natural standard repertoire of many bacteria. In a world with a rapidly changing climate, society demands creative solutions. It is to be expected that the summers in our regions will become drier and hotter. By linking genetic engineering and biomimetic design, we will be able to adapt our food crops accordingly.
A sustainable organisation
It is clear that we can draw our inspiration from nature to create new, valuable products. The principles of Biomimetics can be taken a step further. The way in which we organise companies can also benefit from principles used by nature. Today, many organisations are struggling with their structure. They are too rigid, lack flexibility and have a culture of learned dependence. The reverse is also true, in that too much freedom and independence also creates specific problems.
Nature can also provide the necessary inspiration here; the strength of a natural ecosystem lies in the balance between the independence of elements that have their clearly defined functions and the interrelationships between the various components.
Each component and each person in your organisation has their own goals, their own priorities and their own talents, just like organisms in a biological ecosystem. By using them in an interdependent network, they are most likely to reach maturity. Your organisation can reap the benefits from this.
By rewarding people and departments with both hard-digit targets and also the degree of cooperation and synergy, you can drive and motivate your team and organisation to go forward. You will notice that loyalty and involvement increase because your employees feel far more appreciated. The chances are that there will be many more creative solutions from the shop floor than from the boardroom. In this way, you will of course create a win-win situation for the employees and the organisation.
Want to work together?
If you want to realise sustainable change in your organisation, Happonomy may be able to help. Our solutions help to make sustainable transformation possible. If this interests you, take a look at our solutions section or just contact us.
string(3) "yes" NULL
Our world has been turned upside down. Apart from the threat of the coronavirus that has impacted our public lives for months now, our private lives have also been greatly affected. 
Two of the biggest changes for many have been working from home and also teaching at home. Although for lots of us, exchanging the office for the living room is a welcome change, home schooling, on the other hand, can be a difficult challenge, especially if the two need to be combined. 
Until recently, home schooling was usually a conscious choice rather than a necessity. The realisation that a pandemic can change our lives forever, and that we may be stuck at home more often for a long period of time in the future, motivates us to perform our roles as 'amateur' teachers for our children to the best of our ability.
Where do we stand now with home schooling?
In the initial phase, the emphasis was on practical and urgent matters, such as providing children with hardware, software, access to the internet and online teaching materials. What we have learnt is that we were not well prepared for such a situation, despite the fact that technology is central to our daily lives.
In many countries, children have now gone back to school. In order to keep sufficient social distancing in the classroom, many schools chose a combination of classroom and online lessons. Of course, there are also children who, for health reasons, will continue to take their entire school curriculum though online lessons for the time being. The need to continue to develop and improve distance education is there both for these pupils, and also for future pupils.
Practical tips for parents who teach at home
If you are a home-schooling parent, you must have realised by now that you're not alone. Schools do everything possible to communicate with pupils and parents, to offer teaching materials and instructions to help structure the school day. Use this as support and trust your feelings. 
Following kids' interests
One of the best tips we can give you is to use your children's interests to motivate and retain their attention. So feel free to be creative, because children learn a lot when something is being taught in a playful way, often without being aware of it themselves. 
Quality over quantity
It is very important to realise that you don't have to spend the whole day teaching. This is not only because you have work to do yourself, of course, but also because one-to-one teaching is often more effective than teaching in a large group, so you can achieve much more in a shorter amount of time. 
Providing instruction
The golden rule for explaining something new is to keep it short and concise. Try to explain it in a maximum of 5 to 10 minutes and then put your child to work with a task that focuses on the new content. 
Working independently
Give your child enough opportunities to work independently. The most important thing is that you are available whenever your child needs help. Let your child do as many tasks (and solve as many problems) as possible on their own, and only offer help in the form of suggestions and instructions. 
Flexibility
Try to be flexible with lessons, schedules and breaks. Although routine is naturally important, children like to have input in how they organise their time. For example, let them decide for themselves the order in which they carry out their tasks and when they want to play outside for a while. Clearly indicate when you are or are not available to help, so that they can take this into account. Even if it may not always work out so well, they will learn something from it either way.
Variety
Provide variety. After half an hour of mathematics or spelling, a movement activity or a craft activity is a good idea. Use the fact that you are at home to your advantage. You have many things at your disposal at home that children don't have at school. How about a cooking class, for example?
Ask for advice
Feel free to ask your children's teachers for help or advice. Teachers often know a child better than parents when it comes to the best way to teach them something new. For example, there are children who prefer to watch or listen, and there are other children who learn well by writing things down, reading aloud, drawing or moving around.
Remember that the process is just as important as the end result when it comes to learning. Be patient, focus on things that are going well and try not to look too far ahead. 
Online learning materials
Many publishers have temporarily offered free access to their online resources, to help parents teach their kids at home during the quarantine. This is a great initiative from which teachers, parents and pupils have benefited greatly in recent months. There are many useful free websites out there too, such as khanacademy.org, the Smithsonian Learning Lab, Starfall, code.org, Gonoodle, Storyline and Funbrain. Many others can be found by searching online.
Finally
Do what you can in these extraordinary times. Look after each other and each other's well-being. That mathematics task that your child just can't seem to finish is not crucial. Try to make the best of the situation so that, in a while, you can all look back at this period in a positive way.
string(3) "yes" NULL string(3) "yes"
Titel
Mollit duis Lorem amet veniam minim ad.Voluptate commodo labore aliqua quis esse aliqua.Veniam tempor elit velit non.